Christopher Gerlach is an artist in light - his paintings are about the beauty of atmosphere, light and color.
He works in a style that is impressionistic and personal. His painting style is continuation of European realism and the California Impressionist School, and he has lived and painted in California, in Santa Barbara, San Diego and the Bay area and Carmel-Big Sur throughout his career. He has shown widely in the United States, including at the former William Sawyer Gallery in San Francisco, Orr's Gallery and the Art Collector in San Diego, the Easton Gallery in Santa Barbara, the Munson Gallery in Santa Fe, and the Fischbach Gallery in New York.
Christopher was one of the first contemporary artists to revive plein air realism and the painterly landscape tradition in the 1970's. He currently lives and works in southern Colorado and California.
Please visit the Galleries listed below for examples of Christopher's recent paintings.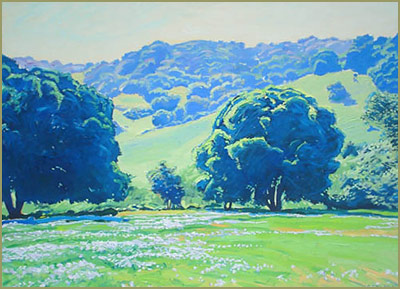 Springtime in the Hills, California
30" x 40 " | Acrylic on Canvas
View our YouTube Video: NEW WORKS 2008
"Art without purpose is just ego and design; Design without integrity and morals is just manipulation and exploitation; and Life without fun and dreams is an empty prison. The Future, Our Future, belongs to the Dreamer, not the Schemer..."
— Christopher Gerlach